Emelina Cucunuba : using Quiz Wizard for language courses
17.03.2023
Quiz Wizard is a tool for creating online quizzes that automatically generates MCQs and flashcards from a theme, a course material or even a simple text.
Emelina Cucunuba, coordinator of second and third languages teaching at ITM BS, Spanish teacher herself, and already a Wooclap and Wooflash user, is one of the first Quiz Wizard users. Today, she shares with us her experience with Quiz Wizard!
Create vocabulary lists on any subject
When learning a language, memorising vocabulary is essential. During and after her Spanish classes, Emelina offers her students the opportunity to anchor words and idioms on the topic of her class, using flashcards on Wooflash.
Quiz Wizard allowed her to generate her vocabulary flashcards in a few seconds, and import them directly into Wooflash. She entered the subject "Spanish" and the theme "the city" into Quiz Wizard and chose to generate a set of flashcards. She asked for "Une expression en espagnol" (an expression in Spanish) on the front of her flashcards, and "Sa traduction en français" (Its translation into French)" on the back, and that was it!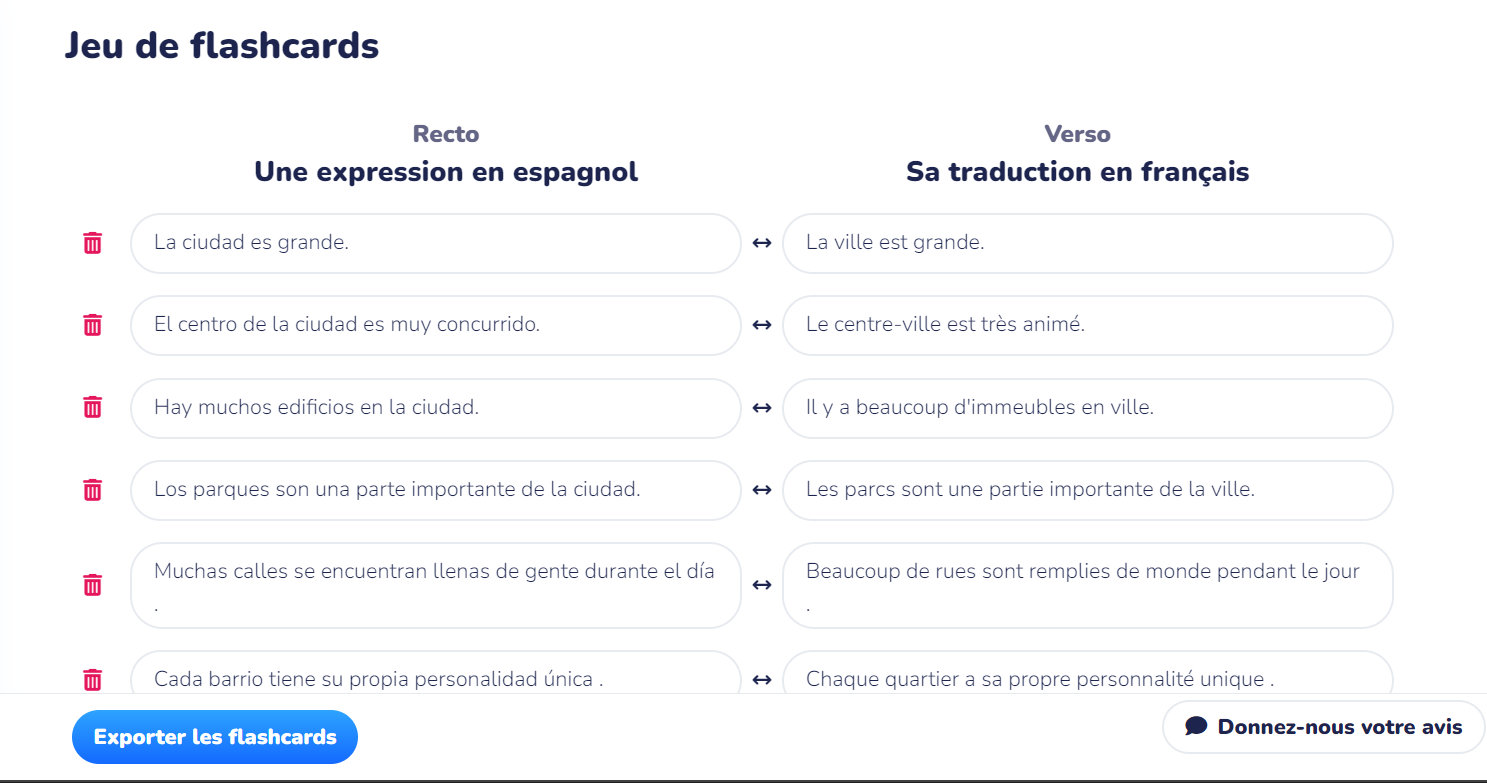 Questioning on grammar points
Another essential part of language courses is working on grammar. Emelina Cucunuba always includes a grammar point in her lessons to structure the students' expression.
With Quiz Wizard, all she has to do is fill in the grammar point in the topic, and Quiz Wizard suggests questions. For example: "past tenses". "The questions deal with specific grammar points, and the answers sometimes even include examples, in perfect Spanish!"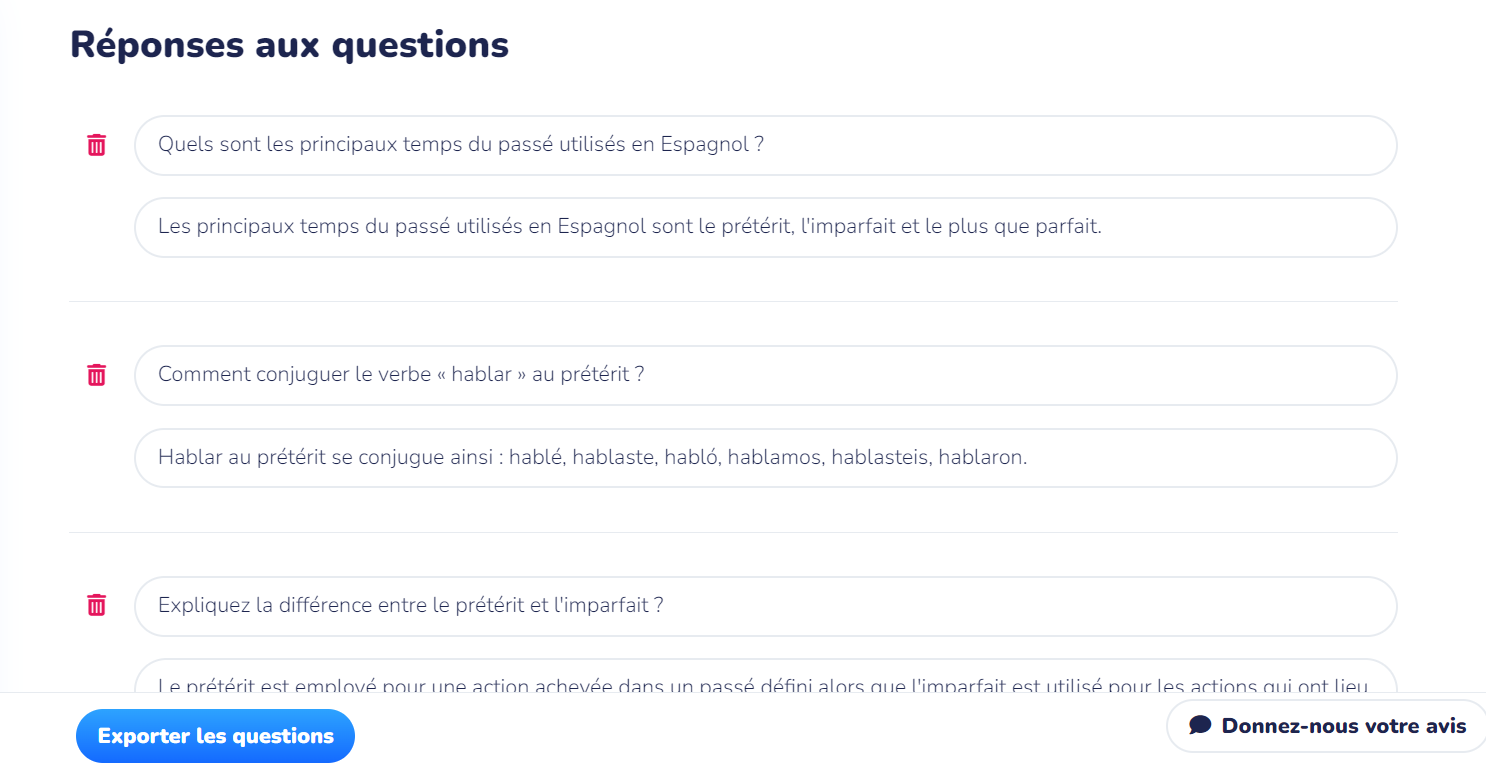 Practicing document comprehension
What use would grammar and vocabulary be if they were not practiced? A large part of Emelina Cucunuba's Spanish courses are aimed at training students' comprehension and expression. She often uses a document, such as a newspaper article, as a basis for this.
As Quiz Wizard is able to create questions based on a support (often a course support), Emelina had the idea to give it a press article. And it worked, she almost instantly got the comprehension questions on this document, with the answers.
Vacation teachers are running out of time
"Quiz Wizard allows me to start from an existing base to create my quizzes, instead of starting from scratch for each subject," she says. "I save a good 30 minutes in creating my content, which used to take me an hour. This time saving is particularly appreciated among language teachers, who are often part-time and have to share their time with other professional activities.
What does the future hold for Quiz Wizard?
Emelina Cucunuba was one of the first hundred users to try out Quiz Wizard and put it into practice in their teaching. As part of this testing program, she gave feedback to the development team.
"Emelina helped us identify possibilities that we had not previously considered. In particular, she told us that Quiz Wizard was already working for document comprehension in Spanish, or grammar questions, even though the tool's interface is not yet available in this language! But it will be soon," says Wandrille Bonnet, Product Manager for Quiz Wizard.
Written by Wandrille Bonnet (Product Manager Lead @Wooclap)